Triple Podium Success At Donington For Title-Hunter Iddon
Written by VisionTrack
04 October 2021
VisionTrack Ducati rider Christian Iddon thrust himself firmly into contention for the 2021 Bennetts British Superbike Championship crown following a superb hat-trick of podiums at Donington Park this weekend.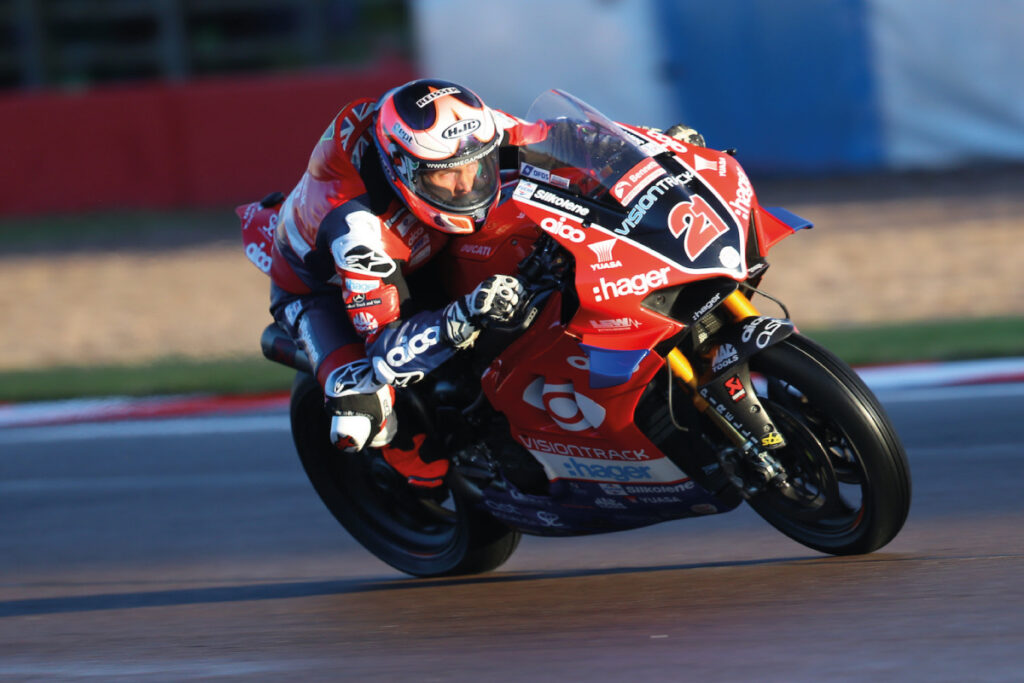 After a superb third place in yesterday's wet race at the penultimate round of the series, Iddon followed that up with another third place in today's opening race held in dry conditions before producing his best result of the weekend with a scintillating ride into second place in the wet third race of the weekend.
The result is that with just one round and three races remaining, Iddon has moved up to third place in the standings but importantly, has reduced the gap to the leader to just 15 points ahead of the final round in two weeks' time at Brands Hatch.
However, it was another tough day though for teammate Josh Brookes with just an 11th place finish to his name meaning he can no longer retain the title he won twelve months ago.
After the difficult conditions of yesterday, the weather was thankfully dry and sunny, albeit still cool for today's first race, with the opening race seeing Josh and Christian line up in third and fourth on the grid respectively.
Both riders made good starts with Tyneside-based Iddon slotting into fourth and Bedfordshire-based Brookes holding station in fourth aboard their respective factory-backed VisionTrack Ducati Panigale V4RRs.
By half race distance, Iddon had made his way up to second place, but Brookes struggled with a technical issue and dropped down the order and at the flag, Iddon secured third place with Aussie Brookes a disappointing 11th.
Iddon had the better starting position for the third and final race of the weekend, starting on the second row with Josh a further row back but after a heavy rain shower, conditions were again tricky with the race cut down to 15 laps.
An excellent start saw Iddon slot into second place behind Saturday's race winner Gino Rea, but he was soon flying the flag single handedly for Paul Bird's Penrith-based team after Brookes crashed out at Craner Curves, fortunately without injury.
As the race wore on, Iddon and Rea were comfortably the quickest two riders on track but in the closing stages the Suzuki rider was able to up his pace and take the win. However, Christian took an excellent second and with series leader Tarran Mackenzie retiring early, he closed to within 15 points of his Yamaha rival with all to play for at the final round.
Christian Iddon: "It's been a good day and with second and third place finishes today, it's been fantastic for the championship. I went with the hard tyre for the first race as I wasn't sure if the softer tyre would last but the wind was really strong, and it was a tough race. Conditions were again tricky in the final race, and it was very similar to how it went on Saturday with Gino setting a good pace. I sat behind him and we were quite a bit quicker than the rest of the field. A win was on my mind, but he was really committed in the final two laps so fair play to him. With three podiums this weekend, it's been superb for our title aspirations and we're well and truly in the mix heading into the final round."
Josh Brookes: "I'm lost for words to be honest with how today has gone and we're still struggling with the issues that have blighted us all year. If I ride at the level that's comfortable, I finish outside the top ten and if I ride with where I think the bike should be, I crash. On the odd occasion this season, I've been able to get away with it and get some sort of acceptable results and the small improvements have masked over the fundamental problems. It's been a tough day."
Johnny Mowatt, Team Co-ordinator: "It's been another good day for Christian and with three podiums from three races, he's done a good job this weekend. We erred on the side of caution in the first race today and went with the harder tyre, but he had a decent set up in both the wet and dry and it's very much game on in the championship. Josh suffered with a lack of grip again today and unfortunately, he's now out of the title race after his two crashes this weekend. He has a lot of pride though so will be determined to finish his season strongly at Brands and he could yet have a big part to play in the championship. We'll go to Brands as a team and work as a team to get the best results possible. There's been plenty of twists and plenty of drama this weekend so I'm expecting the final round to be the same!"
The final round takes place at Brands Hatch on October 15-17.
Bennetts British Superbike Championship race two (20 laps)
1 Tarran Mackenzie (Yamaha)
2 Danny Buchan (BMW)
3 Christian Iddon (VisionTrack Ducati)
4 Gino Rea (Suzuki)
5 Lee Jackson (Kawasaki)
6 Kyle Ryde (BMW)
11 Josh Brookes (VisionTrack Ducati)
Bennetts British Superbike Championship race three (15 laps)
1 Gino Rea (Suzuki)
2 Christian Iddon (VisionTrack Ducati)
3 Lee Jackson (Kawasaki)
4 Tommy Bridewell (Ducati)
5 Andrew Irwin (BMW)
6 Ryan Vickers (Kawasaki)
DNF Josh Brookes (VisionTrack Ducati)

Championship Points
1 Mackenzie 1127pts
2 O'Halloran 1117
3 Iddon 1112
4 Bridewell 1106
5 Buchan 1061
6 Hickman 1059
7 Brookes 1047
Pictures courtesy of Double Red: Christian Iddon (21) and Josh Brookes (25).