Brookes Bounces Back As Iddon Climbs The Table
Written by VisionTrack
23 August 2021
The rollercoaster season that is the 2021 Bennetts British Superbike Championship for Paul Bird's VisionTrack Ducati team continued at Cadwell Park today as the series reached its halfway point.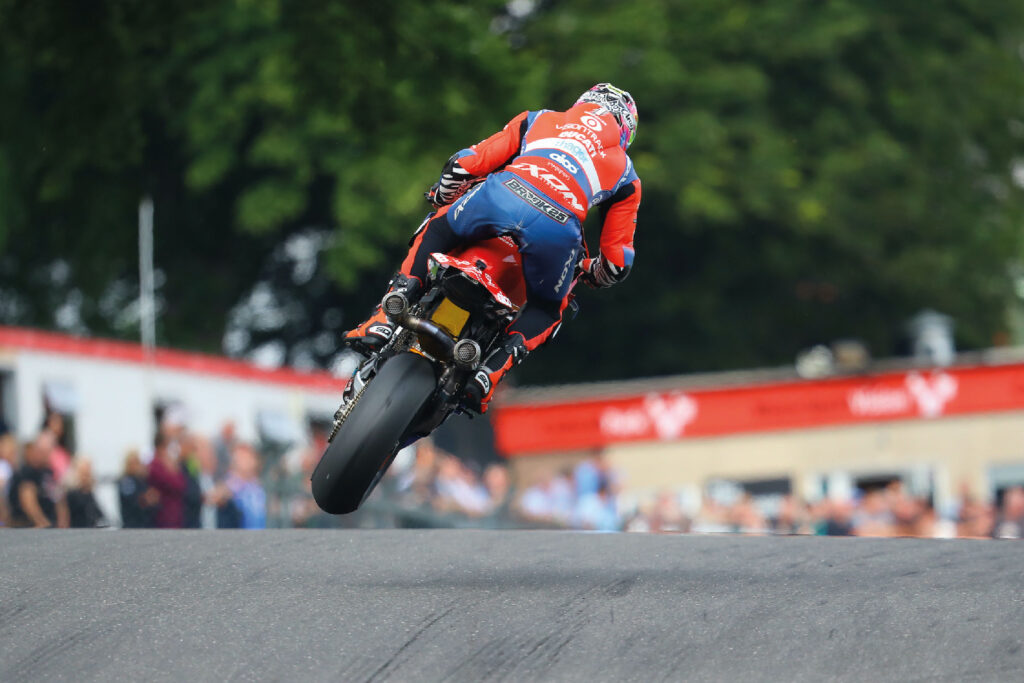 Christian Iddon followed up his result from yesterday with a crash in today's opening race which he backed up with seventh place in the final outing whereas Josh Brookes scored his best points haul of the season with a pair of fifth places today to add to his top ten from yesterday.
The solid results from yesterday meant Iddon and Brookes started today's opening race, held over the longer distance of 18 laps, from third and tenth respectively and both made strong starts on the pair of factory-supported VisionTrack Ducati Panigale V4RRs.
Lap three saw Tyneside-based Iddon running in third, but his race didn't last much longer as he crashed out at Charlie's and that left Brookes to single-handedly fly the flag for the Penrith-based team.
The defending champion did a great job of doing exactly that and by mid-race was one of the fastest riders on track. His pace enabled him to continually climb the leaderboard and he was rewarded with a strong fifth place, his best result in a dry race this season.
For the final race of the weekend, the Bedfordshire-based Aussie was the better placed on the grid in seventh with Christian five places further back in 12th, and once again Brookes enjoyed a strong ride, battling with Lee Jackson for fourth for much of the race.
It looked like he'd claim the position but a slight mistake on the entry to the chicane with three laps to go compromised his line into the bottom of the Mountain and that allowed the Kawasaki man by. As a result, he had to settle for his second fifth place of the day, but he made good progress over the course of the weekend and his chances of making it into the Showdown haven't disappeared just yet.
For teammate Iddon, his tough day ended on a slightly better note with that seventh place finish but with rival Tarran Mackenzie not riding due to injury today, Iddon has moved up to second place overall in the Championship standings, albeit level on points but ahead on countback scores.
Josh Brookes: "The three hours of track time on Thursday helped me get into a bit of a rhythm and being back at a track I like helped this weekend but the improvements we made were still tiny. I can see on track where I'm losing time and, in this series, you can't afford to give away the time that we've been giving away. We still can't get to the bottom of the main issues but although the improvements have been small, we've still made progress and that's a positive. Two fifth places aren't where I want to be finishing but it certainly felt better to be fighting a bit closer to the sharp end."
Christian Iddon: "You make your own luck in this game and that's two crashes in two meetings which have been my fault. And when added to two when I was knocked off, it's disappointing in one way but with Taz not riding, I've somehow managed to climb to second in the title. In truth, we've chased our tail all weekend and I've not found a suitable setting despite the team working so hard. We were hoping to get some more data in race two to help for the final race today, but the crash scuppered that. We now regroup and head to Snetterton in a positive frame of mind as that's where I got my maiden win last year."
Johnny Mowatt, Team Co-ordinator: "It's the best we've seen Brookesy ride all year and you could see on track that he was more committed and more aggressive. The better start positions helped, and it was good to see him fighting towards the front. He looked a lot better and that's three top six finishes in the last four races so although still not where we want to be, it's good progress. Christian's had a bit of a tough day and he looked confident in the opening race until he tucked the front and crashed out. He was a long way back on the grid for the final race so with a few crashes recently he rode a bit cautiously which was to be understood. It's a case of onwards and upwards and having won two races at Snetterton last year, let's hope it's a happy return and we're back on the box."
Bennetts British Superbike Championship race two (18 laps)
1 Peter Hickman (BMW)
2 Jason O'Halloran (Yamaha)
3 Tommy Bridewell (Ducati)
4 Lee Jackson (Kawasaki)
5 Josh Brookes (VisionTrack Ducati)
6 Glenn Irwin (Honda)
DNF Christian Iddon (VisionTrack Ducati)
Bennetts British Superbike Championship race three (18 laps)
1 Jason O'Halloran (Yamaha)
2 Peter Hickman (BMW)
3 Tommy Bridewell (Ducati)
4 Lee Jackson (Kawasaki)
5 Josh Brookes (VisionTrack Ducati)
6 Glenn Irwin (Honda)
7 Christian Iddon (VisionTrack Ducati
Bennetts British Superbike Championship standings (after six rounds)
1 O'Halloran 342pts
2 Iddon 223
3 Mackenzie 223
4 Bridewell 205
5 Hickman 200
6 Buchan 165
12 Brookes 105
The next round takes place at Snetterton on September 3/4/5 September.
Pictures courtesy of Double Red: Christian Iddon (21) and Josh Brookes (25).