Iddon Leads Championship After Knockhill
Written by VisionTrack
12 July 2021
Defending Bennetts British Superbike champions VisionTrack Ducati left the second round of the 2021 series with the championship lead following Christian Iddon's solid performance in all three races at Knockhill this weekend.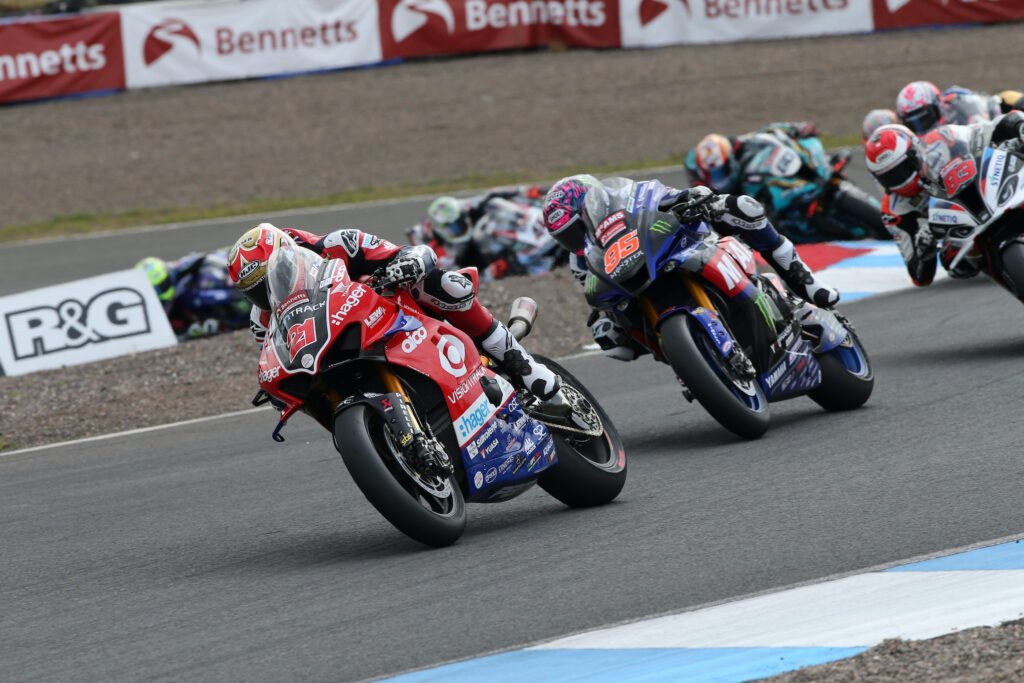 After yesterday's superb victory, the Tyneside-based rider followed that up with a pair of hard-fought fourth places today aboard the factory-supported VisionTrack Ducati Panigale V4 RR to leave the Scottish track with a six-point lead.

But for teammate and defending champion Josh Brookes, the meeting proved to be another challenging one as he again struggled but salvaged a handful of points for Paul Bird's Lake District-based team.

Starting from the front row in today's opening 30-lap encounter, Iddon again took the lead early on which he held until half race distance. But such was the ferocity, he became embroiled in a three-rider battle for the final podium positions for the remainder of the race but just missed out and had to settle for fourth.

Today's second race followed a similar pattern with Iddon holding onto second place for the first half of the race despite numerous riders battling at the head of the field. As places constantly changed Iddon found himself shuffled back to fourth when the red flags came out following a crash meaning he missed out on the podium again.

On the other side of the garage, it was another tough day for Brookes and after struggling throughout Saturday, he was unable to make an impression on the top ten in both races today. The Bedfordshire-based Aussie took an unfamiliar 12th and 13th place finishes in the two races to leave Scotland in 11th overall in the early championship table.

Christian Iddon: "I struggled a bit in the first race today when the bike had a full fuel load, and I wasn't riding as smoothly as I had been. I made a few mistakes and got mugged on the last lap which meant I ended up fourth, but the second race was a lot better. I was in the mix throughout and my pace was good but there were some sizeable moves, and I lost a couple of places. But I felt good and regained some of those places quite quickly only for the red flag to come out. It was a shame as I felt the race was coming to me and I felt confident of a podium if the race had gone the full distance. With a win and two fourths, I've taken a good haul of points and it's obviously great to be leading the championship."

Josh Brookes: "I'm obviously disappointed with how today has gone and embarrassed to be that far back with the number one plate. It's not natural and it's not normal for me to be in those positions and I'm in a bit of shock to be honest. The bike hasn't felt right from the moment we rolled it out the truck and it doesn't matter what we've done, the feeling has been the same. I've had bad races in the past but not so many in a row like we've had so far this season. I've always been able to turn it round and end the weekend on a positive note but that wasn't the case here at Knockhill. But we won't give in, I'll work with my team to sort what we need to."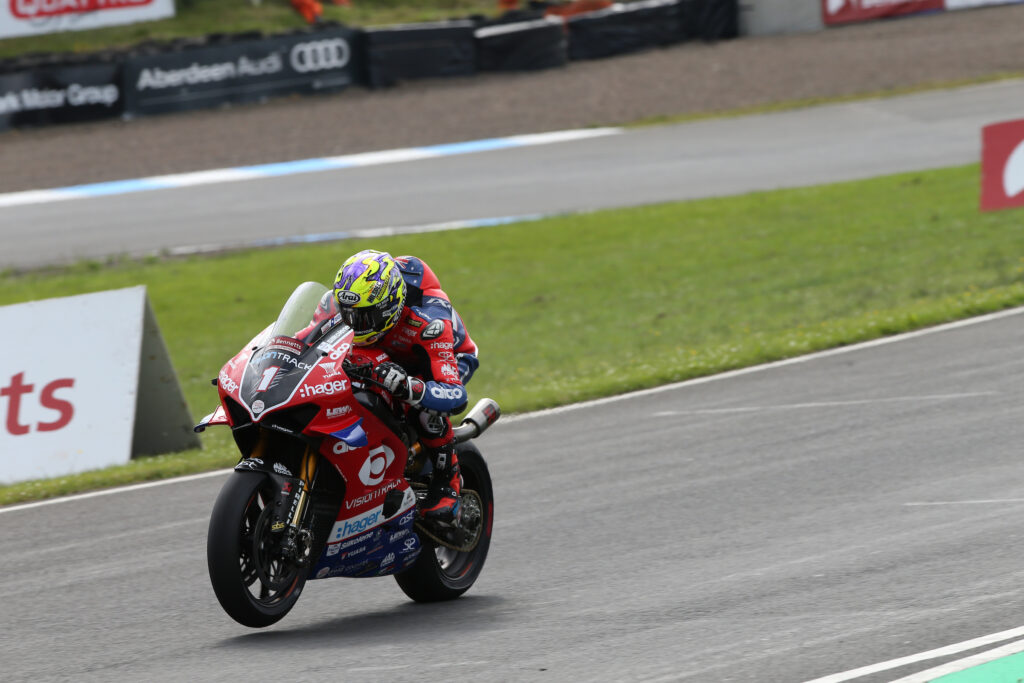 Johnny Mowatt, Team Co-ordinator: "We've experienced different emotions on both sides of the garage this weekend. With Christian's win yesterday and two solid performances today, it's great that he's leading the championship and has been strong all weekend but for Josh, to see him struggling as he has done once again is frustrating. But we won't rest until we have sorted the problem with Josh and whilst Christian has momentum going into Brands Hatch, Josh has an excellent record there, so we'll hopefully find some improvements to kickstart his season."
The next round takes place at Brands Hatch, Kent on July 23-25.

Bennetts British Superbike Championship race two (30 laps)
1 Danny Buchan (BMW)
2 Rory Skinner (Kawasaki)
3 Tarran Mackenzie (Yamaha)
4 Christian Iddon (VisionTrack Ducati)
5 Tommy Bridewell (Ducati)
6 Ryan Vickers (Kawasaki)
12 Josh Brookes (VisionTrack Ducati)

Bennetts British Superbike Championship race three (24 laps)
1 Danny Buchan (BMW)
2 Rory Skinner (Kawasaki)
3 Tarran Mackenzie (Yamaha)
4 Christian Iddon (VisionTrack Ducati)
5 Bradley Ray (BMW)
6 Jason O'Halloran (Yamaha)
13 Josh Brookes (VisionTrack Ducati)

Championship Standings (after two rounds)
1 Iddon 111pts
2 O'Halloran 105
3 Buchan 91
4 Mackenzie 76
5 Skinner 61
6 Bridewell 60
11 Brookes 38

Pictures courtesy of Double Red: Christian Iddon (21) and Josh Brookes (1).