FIVE REASONS TO CHOOSE VIDEO TELEMATICS
Written by VisionTrack
18 February 2019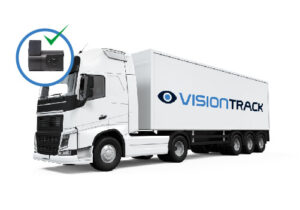 Video telematics is increasingly being adopted by fleet operations to achieve a wide range of business and operational benefits. These connected solutions use the latest camera and mobile technology, so footage of any vehicle collision, near miss or harsh driving event can be transmitted and accessed within seconds of an incident occurring. This is not only helping businesses to make fleet and insurance savings, but also minimise risk, reduce accidents and operate responsibly.
Here are five reasons why vehicle operations of all types and sizes can benefit from adopting connected vehicle cameras:

Improved Road SafetyUsing an advanced video telematics, it is possible to combine driver behaviour data with footage of incidents such as road collisions and near misses. This added context is not available with a standalone vehicle tracking system, so without camera technology it is impossible to establish what was the root cause of an event. A driver swerving to avoid poor driving by another road user, for example, would typically be logged as a harsh event without video evidence, even though they could have acted correctly to avoid a serious collision.
Installing connected vehicle cameras should have some immediate impact on road safety because drivers will be aware that any harsh or dangerous driving is being observed and recorded. As a minimum the cameras will act as a deterrent, but the real value is the ability to measure and analyse driver behaviour, so action can be taken to reduce accidents and encourage responsible driving.

Targeted Risk ReductionWith more than 40,000 public and private sector vehicles now fitted with VisionTrack's camera technology, thousands of driving incidents have been reviewed and what is clear is that a large proportion of these are preventable. In fact, by tracking near misses and harsh driving it is possible to pinpoint higher risk drivers within a fleet. Should a driver be involved in multiple events over a period of time, footage can be used to understand whether a weakness exists in their individual driving style and decide if any interventions should be taken.
There is clear advantage to be had from making video telematics an important element of any road safety and risk management strategy. With live and historical data, underpinned by video evidence, a fleet can identify areas of underperformance and support driver training. This increased visibility enables targeted engagement using relevant footage, so any education initiative can be tailored to the exact needs of the driver.

Reduced Insurance Claims
Using connected vehicle cameras is the only effective way of disputing liability, proving exactly what took place by accessing snapshot images, video footage and supporting data. It can be used challenge fraudulent, false or 50/50 claims with one insurer recently reporting a 24% reduction in claims frequency and 18% decrease in claims costs on behalf its fleet customers. As such, this is helping vehicle operators to protect against avoidable insurance costs.Crash for cash and fake whiplash claims have both contributed to increases in motor insurance premiums over the past few years. Without video proof and accurate impact speed data provided by connected vehicle cameras, it is virtually impossible prove whether a driver was victim of an organised scam.

Added Control of Claims Management
Connected vehicle cameras has shown to play an important role in First Notification of Loss (FNOL) and Third Party Intervention (TPI), which are vital to keeping claims costs to a minimum and increasing the average speed of resolution. By controlling claims from start to finish, at the earliest stage possible after an incident, increases the ability to better manage third-party costs and generates greater savings potential.If a fleet operator, or its insurance partner, is instantly alerted to a collision and provided with actual footage from the scene, it is possible to take control of the entire process. Once blame has been proven, this instant intervention can help prevent excessive third-party hire and repair, while discouraging exaggerated injury claims.

Increased Brand Protection
Drivers represent their employers every time they are out on the road, so it is essential they operate in a safe and responsible way. A high-profile incident, especially one involving a branded vehicle, can result in negative publicity and be hugely damaging to the reputation of a business. Video telematics is proven to reduce incidents and provides an opportunity to eliminate risk from a fleet operation, providing added brand protection and peace of mind.Connected vehicle cameras can also offer an effective means of investigating complaints from members of the public, with video evidence and supporting data immediately available to help confirm or challenge that an incident took place. As a result, it is possible to quickly resolve potentially damaging issues before they can escalate.
VisionTrack is the leader in connected vehicle cameras and video telematics. We offer the widest range of connected camera solutions – underpinned by our multi-award winning IoT platform – to help protect your vehicles, assets, staff and reputation. Our innovative solutions are proven to deliver true value to any size of fleet operations including reduced insurance costs, improved road safety, lower operational risk, increased fleet efficiency and enhanced duty of care. If you would like to find out more about how connected vehicle cameras and video telematics can benefit your fleet, why not contact our team to discuss your options.
If you would like information on any of VisionTrack's services or products, you can email info@localhost or call 01246 225 745.