Win and Three Second Places Keep VisionTrack Ducati in the Hunt for Title after Triple Header
Written by VisionTrack
22 September 2020
Rounds 10, 11 and 12 of the Bennetts British Superbike Championship at Oulton Park put the VisionTrack Ducati team of Christian Iddon and Josh Brookes firmly back in the running for the overall BSB title.
Both riders graced the podium over the weekend with their strong performances, with Brookes roaring away to success in the second and final race on Sunday, while Iddon rode with excellent consistency across the weekend to record the runner-up spot in all three outings.
Round 10 on Saturday was won by Jason O'Halloran on his Yamaha, ahead of Iddon, with Brookes in eighth. The two races on Sunday saw the impressive Iddon secure two more important second places, the first behind O'Halloran in Round 11 and then as runner-up to Aussie team-mate Brookes in Round 12 as he scorched his way to his 51st BSB victory. The results leave the Championship standings evenly poised with barely a chequered flag covering the points difference between the top 4 riders.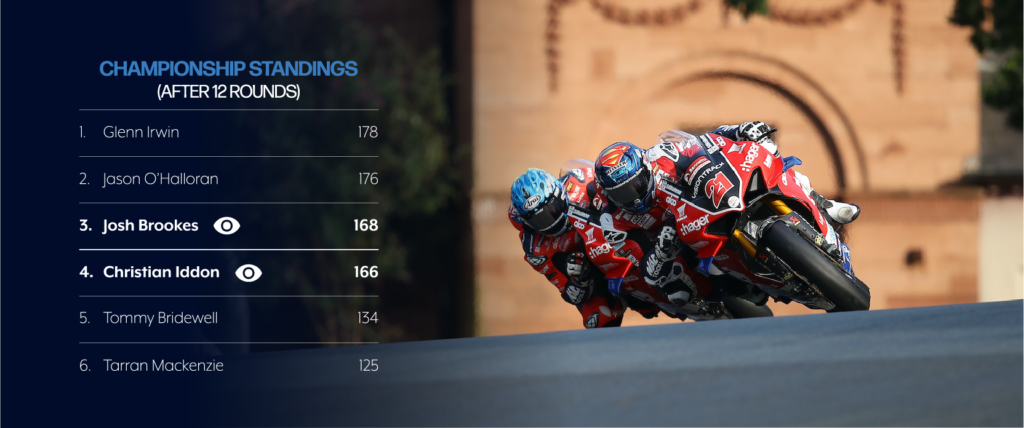 It was a pulsating weekend all round, with both riders going above and beyond to achieve great results.
Christian Iddon: "I didn't manage a win this weekend, but I'm really happy with three second-place finishes, giving me a good haul of points across the three races. The Championship is very much back on now."
Josh Brookes: "The bike the team gave me for the last race was brilliant after the slight disappointment of my 8th and 4th spots in the first two races. I've won a fair few BSB races before, but I'm pleased to get a win again today and this one was particularly enjoyable."