Tough Day For Iddon And Brookes At Thruxton
Written by VisionTrack
02 August 2021
Defending Bennetts British Superbike champions VisionTrack Ducati were left rueing their luck following a difficult Christian Iddon day at round four of the 2021 Bennetts British Superbike Championship held at Thruxton.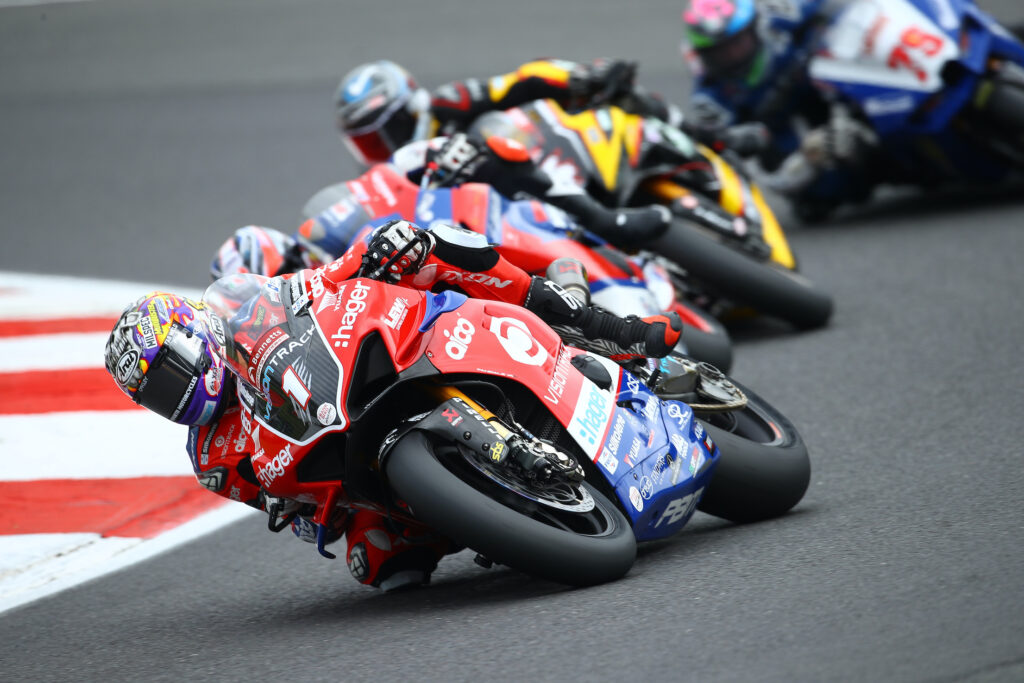 After Christian Iddon had claimed a podium for Paul Bird's Penrith-based team yesterday to maintain his championship lead aboard the factory-supported VisionTrack Ducati Panigale V4 RR, the Tyneside-based rider couldn't add to that tally today when he was taken out in the first race of the day before finishing ninth in the second race in the damp conditions.
Starting the opening 20-lap race today from fourth on the grid, Iddon was in a five-rider battle for a podium place when his race ended abruptly at half race distance when Kawasaki's Lee Jackson crashed out at Campbell, taking the luckless Iddon with him, luckily without injury.
The final race of the weekend saw Iddon start from the fourth row where a damp track and changeable weather meant tyre choice was a gamble. Christian battled his way through from 13th to eventually claim ninth in the difficult conditions.
For teammate Josh Brookes, the disappointing start to the season continued when he finished 17th yesterday and again just missed the points in 16th in the opening race today before a tyre gamble didn't pay off in the third race and he finished in 14th position.
The result is that Iddon holds on to second place in the standings but is now 42 points behind rival Jason O'Halloran with Brookes adding just two points to his total to occupy 12th in the table.
Christian Iddon: "It's been a tough weekend all round as we have had minimal set-up time due to the changeable weather since Friday, so we've had to work with what we had. Yesterday's race was a bit scrappy but I somehow managed to get a podium and I felt I could repeat that today when Lee collided with me and that was the end of that. In race three, the changing conditions meant it was a bit of a lottery and although we chose a good tyre combination, the best I could do was ninth. So, we regroup and go again at Donington Park in a couple of weeks."
Josh Brookes: "We've continued to make changes this weekend, but it's been to no avail. In the dry, I've had a Josh Brookeschattering sensation in the middle of the turn and whilst you can ride round it to a certain degree, the spinning of the tyre isn't something that's as easy to overcome. I've struggled for drive and not going forward yet I've been wearing out the tyre as much as the boys at the front who have been going harder. It's tough and it's frustrating so we need to look into the issues a bit deeper to get out of the hole we're in."
Johnny Mowatt, Team Co-ordinator: "It hasn't been our day today. The first race was looking ok for Christian until he got taken out, so we have to take it on the chin. He went with a wet front and intermediate rear for the last race, but it didn't dry up like we thought it would; ironically, the sun was shining ten minutes after the race, so lady luck certainly wasn't smiling on us. It's been made doubly tough with Jason O'Halloran winning all three races and after losing ground in the table we need to regroup and come back fighting at Donington, even more so on Josh's side of the garage. He's struggled all weekend and we need to get to the bottom of the issues as soon as we possibly can as reaching the top eight and the Showdown positions is getting further out of reach with every weekend."
Bennetts British Superbike Championship race two (20 laps)
1 Jason O'Halloran (Yamaha)
2 Tarran Mackenzie (Yamaha)
3 Glenn Irwin (Honda)
4 Bradley Ray (BMW)
5 Peter Hickman (BMW)
6 Kyle Ryde (BMW)
16 Josh Brookes (VisionTrack Ducati)
DNF Christian Iddon (VisionTrack Ducati)
Bennetts British Superbike Championship race two (20 laps)
1 Jason O'Halloran (Yamaha)
2 Danny Buchan (BMW)
3 Danny Kent (Suzuki)
4 Ryan Vickers (Kawasaki)
5 Andrew Irwin (BMW)
6 Glenn Irwin (Honda)
9 Christian Iddon (VisionTrack Ducati)
14 Josh Brookes (VisionTrack Ducati)

Bennetts British Superbike Championship standings (after 4 rounds – 12 races)
1 O'Halloran 232pts
2 Iddon 190
3 Mackenzie 173
4 Buchan 162
5 Bridewell 110
6 Hickman 108
12 Brookes 58
The next round takes place at Donington Park in two weeks' time.
Pictures courtesy of Double Red: Christian Iddon (21) and Josh Brookes (1).