Fourth For Iddon At Donington Park
Written by VisionTrack
16 August 2021
The opening race at round five of the 2021 Bennetts British Superbike Championship at Donington Park today proved to be a challenging affair for the VisionTrack Ducati team and although Christian Iddon took a solid fourth place, teammate Josh Brookes crossed the line out of the points in 18th.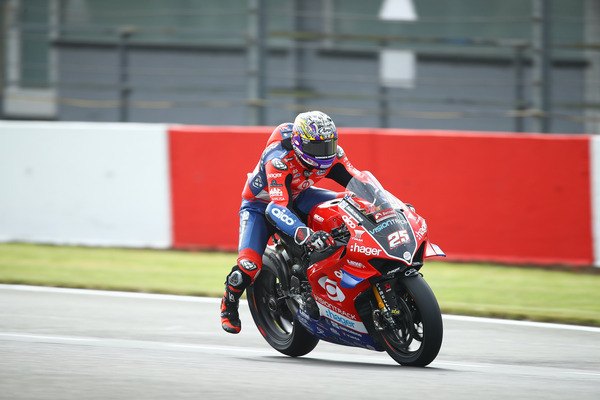 Both of Paul Bird's riders had enjoyed productive first days on the factory-supported VisionTrack Ducati Panigale V4RR at the Leicestershire circuit with the fourth and fifth fastest times putting them straight into today's second Superpicks session, but that qualifying session proved more challenging with Iddon and Brookes slipping back to eighth and 15th respectively.
Conditions changed considerably before the race as light rain steadily fell but the track had dried sufficiently for the race to be declared dry and full slicks were the order of the day.
A good start for Christian saw him move up to fourth on the opening lap and two laps later, he took the lead for the first time. From there on in, it was a major battle and with the front three riders edging away, the Tyneside-based rider had to settle for fourth at the flag.
Brookes' race was compromised by a technical issue, and he wasn't able to reproduce the pace he'd shown yesterday. Battling against the problem, he had to ride round the issue and, after one off-track excursion, crossed the line in 18th place.
Christian Iddon: "I had a reasonable race, but it was a strange start as some people were being quite steady although conditions were a lot better and drier than they thought. That allowed me to come through quite quickly but after that it was a real battle. Everyone has strong pace around this circuit, but I got caught up a bit with Glenn Irwin, rather than staying ahead of him, and that allowed a gap to open up. Fourth's disappointing as we want the podium credits and when you don't finish on the box, it's hard to be content. We'll make improvements for tomorrow's races and look to get into a good rhythm."
Josh Brookes: "We showed more potential at the beginning of the weekend but I'm not sure it was a real indicator of performance as I'm still struggling with the 2021 bike. I've accepted I'm not going to get my 2020 bike back and need to persevere as best I can but, unfortunately, I had an issue with the engine braking during the race. That affected my entry into every corner, but I learned how to ride with the issue although too much time was lost so we'll try again tomorrow."
Johnny Mowatt, Team Co-ordinator: "It was a solid result for Christian although we're obviously slightly disappointed not to have finished on the podium. He got duffed up a little bit and didn't quite have the pace of the front three. The weekend started strongly for Josh and the qualifying position didn't reflect his performance, but such is the nature of the course, losing a couple of tenths can be a massive difference. He had an issue in the race which compromised his pace, so we'll look at all the data to see what's happened and go again tomorrow."
Tomorrow's races are scheduled to take place at 13.00 and 16.30 respectively.
Bennetts British Superbike Championship race (20 laps)
1 Jason O'Halloran (Yamaha)
2 Glenn Irwin (Honda)
3 Tarran Mackenzie (Yamaha)
4 Christian Iddon (VisionTrack Ducati)
5 Tommy Bridewell (Ducati)
6 Ryan Vickers (Kawasaki)
18 Josh Brookes (VisionTrack Ducati)
Championship standings
1 O'Halloran 257pts
2 Iddon 203
3 Mackenzie 192
4 Buchan 165
5 Bridewell 121
6 Hickman 115
12 Brookes 58